After Contract Delays, Army Units Finally Close to Getting New ACFT Equipment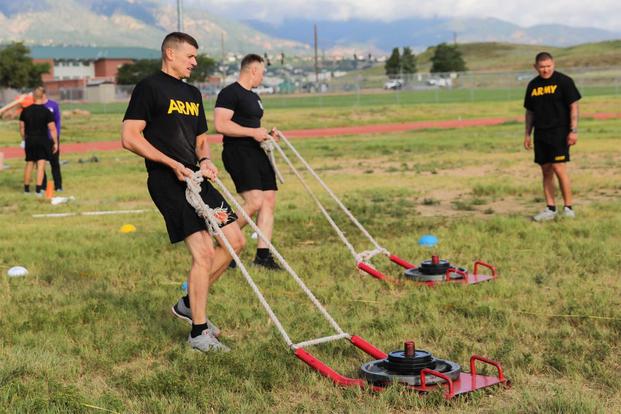 Army active-duty, National Guard and Reserve units finally should receive the sports equipment necessary to practice the Army Combat Fitness Test, or ACFT, by next spring, according to the general in charge of Army fitness
The Army is set to replace its current Army Physical Fitness Test Oct. 1, 2020, but before units can administer the new six-event assessment to soldiers, they still will need battalion sets of special fitness equipment.
In June 2019, the Army selected Atlantic Diving Supply Inc. in Virginia Beach and Sorinex Exercise Equipment Inc. in Lexington, South Carolina to supply the fitness equipment under a $63.7 million deal. But competitor protests with the Government Accounting Office delayed the Army from going forward until late fiscal 2019, Maj. Gen. Lonnie Hibbard, commander of the Army's Center for Initial Military Training told Military.com.
Related: New Data Shows Performance Divide on Army Combat Fitness Test
"We wanted to have the equipment out by Oct. 1 of this year, but there were three protests on the equipment that delayed it," Hibbard said. "We believe we will have it out to all three components, all active-component units ... no later than the end of April and it should be down to the company, troop and battery level by May."
For a battalion to administer the ACFT, it will need 16 lanes worth of equipment, Army officials have said. Each of the 16 lanes needs will need to be equipped with one deadlift bar and more than 320 pounds of weights. Each lane will also need 90 pounds of additional weights for the sprint-drag-carry event that requires soldiers to drag a 90-pound sled for 50 meters.
Many units already have pull-up bars needed for the leg tuck event, Army officials said. Each lane also requires a weight sled, pull straps, two kettle-bell weights and one medicine ball. Other equipment includes tape measures, marking cones and stopwatches.
Hibbard stressed that it's important for units to get the equipment and start working with it as soon as possible, so they can take practice tests before the Oct. 1 implementation.
The goal is to have active duty soldiers take two diagnostic ACFT tests and National Guard and Reserve soldiers take one to establish to get a better sense of the force's ability to pass the test, Hibbard said.
The Army plans to issue the fitness equipment by region in the U.S. to active, Guard and Reserve units at the same time, Hibbard said.
"They are doing a regional distribution of equipment, so I think the northeast is the first region to get their equipment; they will start picking their equipment up in December-January," Hibbard said. Then it comes to the southeast, then it goes to the northwest, southwest and the central United States."
Units based outside of the continental U.S. should receive their equipment when the West Coast regions receive theirs, Hibbard said.
The Army has tasked Army Materiel Command and Army Tank Automotive Command to set up set up central-issue points in certain states.
"So as a manufacturer gets 5,000 sets together, they are taking it up in trucks," Hibbard said. "And whoever happens to be in that state will come pick it up, whatever they are authorized."
-- Matthew Cox can be reached at matthew.cox@military.com.
---